Increase organic
Website Traffic
and enhance your business web presence
Page Ranking
Page ranking is what determines how high up on Google's search engine results page (SERP) your website appears, and it can make or break your company. It's important to optimize your site so that people will find you through SEO. Without good SEO, you can't be found by customers because your site rank will not be high enough.
Site Optimization
Site optimization is the process of tweaking your site to improve the user experience. SEO is often an important part of this process. There are many different steps that can be taken to optimize your site, but choosing the right keywords and using appropriate metadata are perhaps some of the most important.
User Retention
User retention is measured by the percentage of new users who return after a certain time period. It is the key metric for the success of most marketing campaigns, and it is calculated out of 100%. Increasing user retention can lead to more traffic, more conversions, and an increase in customer lifetime value.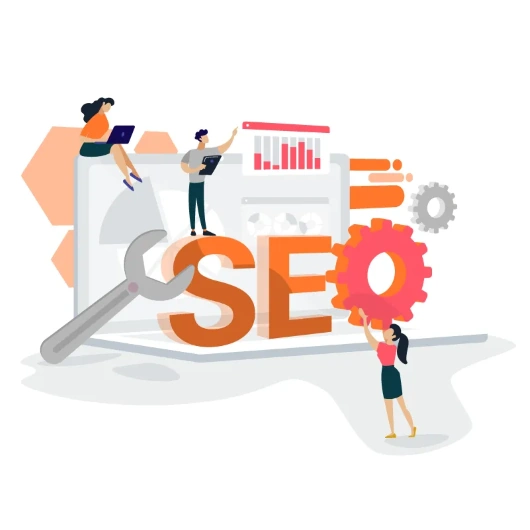 We are here to work on your
SEO business goals!
Orange County SEO Company is a digital marketing agency that offers an array of services to help businesses connect with their targeted audiences. Our experienced professionals work hard to develop the right online strategy to generate results for their clients. We are experts in:
Web Design

SEO

Web Analytics

Social Media Marketing
The use of SEO as a digital marketing tool is an increasingly popular choice among businesses. Looking at how search engines work, it's clear that these algorithms are not only designed to provide the best results for a given query but also to rank websites so that the most pertinent and recent content is shown first. This means if your business or organization has not optimized its website for search engines, you're missing out on potential customer traffic and sales opportunities.
With the way that Google has been updating its algorithms, it is important for companies to make their sites as search-engine-friendly as possible. One way of doing this is through SEO or Search Engine Optimization. This is the process of utilizing a number of tools and techniques to rank higher on SERPs (Search Engine Results Pages).
Web Analytics is a powerful and complex tool that can help digital marketers better understand their audiences and the intricacies of conversion. With data on everything from web traffic to user engagement, web analytics can provide insights into what appeals most to visitors to the site. This knowledge can then be used to improve various aspects of marketing, including content strategy, email marketing, social media marketing, and website design.
Web Analytics is important to businesses because it determines customer behavior, analyzes visitor data, and provides insights about online business. Web analytics includes features like tracking users on websites, understanding what people search for on the site, and knowing how people interact with content. Along with this information, web analytics can be used to analyze trends in traffic and conversion rates.

Social Media Marketing is the process of promoting a business, product, or some other form of content on various social networking sites. Business owners can use social media to increase brand awareness, generate leads and reach new customers. Social media marketing campaigns are typically focused on three objectives:
Building awareness for your business

Adding value for your target audience

Delivering your message in an engaging format.
With the rapid technological changes within the digital marketing environment, it is important that businesses stay up-to-date on how to use these tools for their business. It can often be challenging knowing what digital marketing strategies are best for your business.
One way to gain this knowledge is by partnering with an Orange County SEO Company. We will evaluate your current online presence and make recommendations based on our expertise. Orange County SEO Company is capable of helping countless business owners in Orange County get noticed by potential customers. Through our digital marketing service, you can get your business the attention it needs to flourish. There are many benefits of hiring us for your online marketing needs, one being that they have experts on staff, each with different specialties to meet all of your demands. The company is fully equipped with all that is needed to help your business grow. Call Orange County SEO Company Today! And let's get started achieving your business SEO goals!
FAQs About Digital Marketing Services of Orange County SEO Company
Digital marketing is a form of marketing that uses digital tools to create, manage and analyze marketing campaigns. It also includes the process of gathering data from the website and using those insights to better target potential consumers.
Traditional marketing is used to spread the word about a product or service. It can be done through word-of-mouth, television, radio, printed advertising, and more. Digital marketing takes traditional methods and adds in the power of the internet. This allows for an instantaneous reach to a much wider audience and the ability to track user data and behaviors over time.
Many people are unaware of what can be done to ensure their website will rank higher in search engine results pages. Depending on the site's industry and its target audience, there is a variety of SEO tactics that can be utilized for this purpose. Among these is leveraging the use of keywords and relevant search phrases during content creation, ensuring links to other sites relevant to the site's core business are posted, and most importantly, making sure the site itself is well-indexed.
Web analytics needs to be a part of any online marketing strategy. It provides insights into visitor behavior on a website and is used to improve the site's effectiveness. Web analytics also provides a historical record of the progress of a website and methods for predicting future trends. In addition, web analytics can be integrated with other tools, such as Google Analytics, to provide an even greater depth of data. A number of free web analytics programs are available for those who want to get started.
Social media is more than just a platform to connect with friends and family. For businesses, social media can be an invaluable tool for interacting with current customers and attracting new ones. A company will have to decide which social media platforms are the best fit for their audience, their product, and their goals.
Paid advertising is your traditional advertising. It can be on television or in print, but it's generally for the purpose of promoting a product or service. Social media marketing is something completely different. A social media campaign can promote your brand, but it's mainly for building relationships with customers and potential customers - considering them to be your "friends.
Orange County SEO Company is a local SEO company that provides digital marketing services to Orange County businesses. We have been designing and executing successful digital marketing campaigns for nearly 20 years, so you can trust us with your marketing needs. Orange County SEO Company has the expertise to take care of all aspects of your campaign, from content creation and website design to social media management and analytics reporting. Call us today and get started!